Last week I travelled to New Jersey and all the way to Cape May for a brand new open water swim put on by JC Malik.  I was looking forward to meeting my online friends and seeing the beaches and light house.  As a child I had gone there once or twice and once later in life and had some faint memories of it so I wanted to revisit it "for old times sake" and what better way than to swim around it. Recently I had seen the lighthouse in a lace curtain my mermaid swim partner has in her new kitchen.
So I signed up for the inaugural "C3 swim" even though it was going to be longer than I've done in some time and hotter than I am used to.  It would also be a last event of an uncertain season.  So when I got back from Alaska I rushed to get in some longer swims in the now warmer waters of La Jolla.  Still as I arrived in New Jersey I was uncertain, I had missed a few last training swims due to various things and ended up in cooler water than I had hoped but this is always the way.
The Background
On Friday afternoon (Sept 13) I checked into the Grand Hotel, met Don who I had flown out to paddle for me and then a group of the swimmers for a little pre race dip.  After this we got to go on a whale watching boat (The Spirit of Cape May) to travel around the race course and see dolphins.  All of us were happy to meet eachother, a big group of swimmers and paddlers, nervous and quiet or chatty and confident.  As we motored around the course we discussed landmarks and plans, near the end we came upon an area known as "the rips".  This is the confluence of the Delaware river basin waters it was a mildly chaotic area reminding me of tidal rips elsewhere with waves of @ 2feet in various directions. We thought ti was perhaps 500 yards wide and although it was calmer close to the beach it really just looking "interesting"  then we passed the grounded cement boat and it was not much farther to the finish line. We were told not to worry much about the rips with the forecast winds from the north "tomorrow" they would "lay down"
After the tour it was a rush back to the hotel to try to eat and prep and sleep before a 4:30 am wake-up call.  Unfortunately it was at this time I started to feel very sick, pounding headache, upset stomach etc.  I managed to layout feeds etc and get all the gear together and then passed out.  4:30 came early, my head had stopped hurting but I had a bit of a fever.  No matter, I got everything ready and we were off to Higbee beach. There the usual chaos kayaks and parking and getting ready in the dark but there was also a strong wind gusting, seemingly from the south.  Don's VHF radio gave a small craft advisory but the winds were to die down later.
The Start
The start had all the confusion of a typical newer open water swim.  The number tattoos wouldn't work right, numbers got swapped, and the first turn buoy kept drifting away in the wind.
Since we had to get past a ferry before 7:30 there was no way to delay so off we went.  We were all happy to get in the water because it was much warmer than the air but also it was murky and choppy.  As we came to the end of a very rocky jetty Don joined me.  We made a sharp turn around the jetty and dropped into the canal.  It was supposed to have a current pushing into it but at this time the current was pushing out, there seemed to be big chop and swell and suddenly Don yelled something and sprinted off.  I put my head down and headed up the canal, remembering there was a dredge that we were to go left of, I veered into the channel past the dredge I turned back towards the side and a safety kayaker seeing me head up sighting started asking where my kayaker was.  It turned out eh had gone to rescue a swimmer being swept into the rocks, he put his pride and joy-a lynx inflatable kayak into those sharp rocks to save the swimmer from being slammed into them by a big wake. He then sprinted back to the safety kayaker and me and we resumed.
On The Way
The first half of the canal swim was pretty, passing the ferry, various buildings etc.  Soon we were under the bridges and the current was finally running in our direction and running fast.  We soon came under the railroad bridge and sited for the Coastguard boat across the harbor.  This was a very chaotic period with several boats bearing down on us and Don sometimes having to go around me to ward them off, there was a fair amount of chop and wind as well as wakes adding to the confusion.  The ehat was also getting to me and my legs were cramping.  I made a deal with myself that I would make it out the canal and 2 feeds in the ocean and if I wasn't better by then I could stop.  Past the harbor is a long jetty known as the coastguard jetty.  Long long rocky area where we were to hug the rocks with the layaker as a buffer.  Several times here (as well as earlier) I hit the bottom, the canal was not as deep as the charts indicated!
As we were travelling down the jetty the kayakers were told they could not stop for feeds so it was long hot and thirsty!  At last we rounded the jetty and turned into the sea.  It felt like the sea gave a final push to get us out but we turned into—a boat turning sharply into the canal and a major headwind.  Once the boat was avoided and our hearts stopped racing, we stopped for a feed and to try to spot some dolphins that were whistling a little way out.
We headed towards a water tower in Cape May propoer and soon got close to the beach.
Some small troubles
Apparently some kayaker got in trouble here and a safety boat approached us and stopped us to enquire as it turned out, Don had spotted a halted team and directed them.  We then proceeded to get closer to the beach.  At this point Don told me he needed to stop for a moment and would catch up so on I went perhaps 100 yards offshore, seeing the umbrellas and kids playing in the water.  My leg cramps were gone in the cooler water and other than the annoyance of chop constantly over my left arm, I felt great.
Twenty or so minutes later I started to wonder, where is Don?  There is a rapidly increasing headwind is it so strong he can't catch me? Maybe he can't see me?  I turned on my back, I could see him far behind slowly heading in my direction.  I resumed swimming but still no Don, I switched to backstorke again my body clock said it had been nearly 40 minutes now.  I saw the safety boat come near then veer off they soon joined Don I started swimming back towards them at this point.  In another 10 minutes (of grudging swimming back along the course, now with the wind knowing I'd soon have to go against it again) we joined up.  Don had gotten some bad cramps and had been unable to paddle strongly enough to overcome the distance and wind.
He was still not feeling all that well and I worried about him.  I had him drink some of my electrolyte mix and he seemed to perk up but from time to time would sag and the wind was blowing and blowing building, white caps and chop.
We continued on for some time like this then the radio on the kayak woke up.  When I stopped to feed I heard "missing swimmer" "bad conditions" 'capsized kayaker"  next feed it was "scramble helicopter" "cant' get to kayaks"  there were squall lines forming in the water.  I stopped and asked Don how he was he wasn't looking great.  He said he was trying to get a replacement "in case".  I told him I would be happy to get to the lighthouse and get a picture if he could do that we could always call it a day, the safety equation didn't seem to be in our favor.  He agreed we would evaluate at the light house.  Now at las the current seemed to be pulling us along although still into a head wind (which made the chop steeper) the winds still building, clouds forming, we arrived at the light house quicker than expected.  Don had me pose for some pictures for my mermaid friend.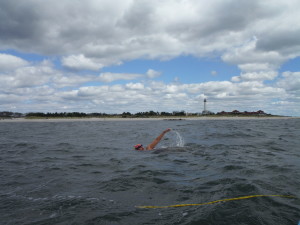 The world falls apart
I asked about the race situation-swimmer still missing, I could see the helicopter, kayaks in trouble, Don said he could see some worse looking water ½ mile ahead.  We thought that must be the rips.  I asked him to call in and see what was happening and what the conditions were and if it wasn't good to ask where they'd like us to go.  The answer was a confused scream about the rips, the coastguard boat swamping, can't get out, closed to recreational craft no swimmers to enter.  We decided to head for the beach and wait to see what the problem was. Then someone called for a headcount.  Don stopped and radioed where we were and that we were going to head in but..it was too late.
I was swimming hard for the beach 100 yards or less off but I seemed to be going backwards, suddeny Don turned towards me and screamed "over the nose into the kayak NOW!"  I tried but my arms and legs were not cooperating after 13+ miles of swimming and cramping.  I turned to see what was wrong and could not understand wild walls of 6-10 foot water crashing towards us and chaos of whitewater similar to the kern river in flood.  There seemed to be some dolphins riding waves away from the center.  I turned back and said I can't get in save yourself but what is it? Don said its bad very bad sprint!!
At that moment one of our safety boats came barreling out of the chaos the passengers screaming and gesturing to the beach.  Don yelled its bad hold on for your life.  I grabbed the nose as the first wall hit. We climbed up slammed down and the kayak started to breach.  I let go and yelled "you're ok, your ok its fine" It sounded in my head like my mermaid friend telling her 2 year old not to cry and suddenly she was with me in those moments when the conditions turned bleak (Coronado).  I ducked under the next wall and there was another, I saw Don miraculously still upright and suddenly the coastguard boat slammed through the wave just missing Don, he screamed GET MY SWIMMER and pushed off the side with his paddle.  A lifering came sailing though the air and I heard "hold on with both arms we can't stop or come back"  I held on and was pulled through the waves and wild water bouncing off my stomach like a "tube " ride.  After an eternity that was probably less than 10 minutes I was pulled to the side of the boat.  I remember screaming is the prop off and I was yanked to the back and pulled over the transom, I heard yes then fell on the men lifting me  with a loud crunch and immediately we were back in gear and fleeing.  We then picked up another swimmer-Jia who was behind me and didn't quite understand the problem but her paddler did and we headed all the way back into the channel to the Harbor View Marina where we waited for a long time to be picked up and were given drinks and sweatshirts by the owners who were very kind to these washed bits of jetsam.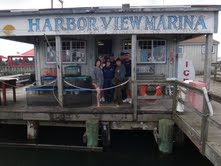 When we finally got back to the beach and were reunited with our paddlers Jia and I were very relieved (as was Don whose last view of me was as I was towed away clutching the life ring).
After the swim I asked those who were in the boats what really happened it was so strange as if the sea suddenly reared up into the sky and curled back to chase us.  I was told indeed this is the case.  All afternoon the wind had been blowing, the water was emptying out from the Delaware into the Atlantic as the tide changed the wind opposed it.  For hours it was relatively well behaved just ridges and ripples, still a challenge for tired swimmers in the 12th or 13th mile but quite manageable.  Suddenly the confluence went from large riffles and confused water to huge standing waves in every direction, they swamped the coastguard vessel.  Nearby boaters reported they tripled in size in moments from what the earlier swimmers battled through to this amazing "avalanche".  The coastguard pilot is still amazed that the area suddenly grew so much in size and violence and confirms indeed the area expanded out in a moment but we were also pulled towards it.  I just couldn't understand it in the moment it reared up like that.  I don't know what would happen if I kept swimming through and the coastguard folks assure me it was a magical moment for them to crash through the wave right where I was because it was far too big for them to see us, they were just fleeing to prevent their own capsizing.  The Marina operator told us when the winds come as they did that day this happens at certain tides and "the rips" eat boats.  In part because the waves can stand over 10 feet high but bottom out into sand so an unwary boat will hit bottom then break up in the wave. They call them "green monsters"  I was also told that since hurricane sandy the shoals and water behavior in the area have changed for the worse and become much more unpredictable.
So it was a great swim with a strange ending.  It all worked out all the lost were found and lived to tell the tale and dream of future swims.  Perhaps someday we'll tame the green monster! I imagine you could swim around there many times before getting that perfect storm of wind and tide!